Mother's day is fast approaching and if you are like me you still haven't even thought about what to get her. Well I'm here to help you….. and me.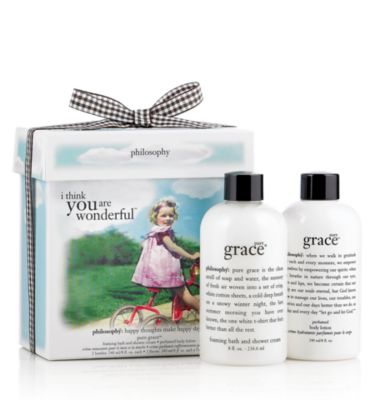 Why buy an overly mushy Hallmark card when you can get your mother the I Think You Are Wonderful Gift Set from Philosophy. Your mother does a lot, so give her a reason to relax with the foaming bath and shower cream and perfumded lotion.  She with be smelling lovely with the pure grace scent.
Fragrance is a Mother's day staple, but stay away from the traditional bottle of perfume and buy your mother the Sephora Best of Fragrance Deluxe Sampler with 10 fragrance samples and a voucher for a full size fragrance. I received a different one from Christmas and I love it, I think it is a great concept. The Deluxe Sampler includes Michael Kors Very Hollywood, Gucci Flora and Marc Jacobs Daisy just to name a few. Your mother will the vast variety of fragrances.
Got a jet setting mother? Or just a mother who likes travel sizes? Caudalie Beauty On Board is a cute to go set with five travel sized products for $15. It comes with Cleansing Water, Body Lotion, Shower Gel, Conditioning Shampoo and Pulpe Vitaminee Fluid and a recycled pouch. Great for a earth loving mama.
Pixi's Week of Makeup, well the name says it all. It is your makeup look for the day broken down by days of the week. There is 3 eyeshadows, blush and lip gloss for each day of the week. It is great for a busy working mother who doesn't time in the morning to worry about what makeup to wear it's all done for her. It is great for a mother who is not that knowledge about what colors to pair together.
Happy Mothers Day to new mothers, experienced mothers and soon to be mothers. Where would we be without our mamas 🙂